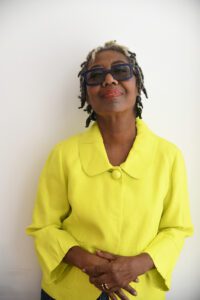 I am a writer, poet, and self-proclaimed "South Philly girl. "I grew up surrounded by family and Blackness. My parents brought me home from Pennsylvania Hospital to a tiny apartment, behind the Crispus Attucks hotel on the corner of 15th and Catherine Streets. "The Attucks," named for a Black man considered the first American killed in the Revolutionary War, was known as the "colored" hotel back then since it was one of the few hotels in the city where Black people, high or low, could rent a room. Entertainers and athletes such as Hank Aaron, Ella Fitzgerald, and Billie Holiday stayed there.
I spent my childhood in a rowhouse on the 1400 block of Montrose Street, a dead-end block that abutted South Broad Street and a building that housed the Black musicians' union, Local 274. When my four siblings and I weren't in school or playing hopscotch, skating, or jumping rope on our block, we ran track at the Marian Anderson recreation center, went swimming at the Christian Street YMCA, and attended church at historic Tindley Temple Methodist Episcopal Church. All of these were Black institutions and within walking distance of our house.
As for family, my grandmother Daisy lived next door to us, Aunt Betty lived down the street and dozens of cousins and other relatives were sprinkled throughout the neighborhood. My South Philadelphia roots run deep. When I write, whether poetry or nonfiction, I bring these roots with me.
I started my career in the social policy field and have written on a variety of policy issues, including youth development and community building, for major foundations, nonprofits, and The Washington Post.
Over the past ten years, I've focused significant attention on writing poetry and completing a memoir, about my experience with kidney disease, dialysis, and kidney transplantation. My poems have been published in many journals and anthologies, and I've read my work at venues in Philadelphia, Maryland, Virginia, and DC. In February 2023, my memoir, Transplant , won the Washington Writers' Publishing House's (WWPH) inaugural creative nonfiction prize and will be published in October 2023. Information about the WWPH prize, and examples of my work, including a short excerpt from my memoir, are available under the "My Work" tab of this website.
I've served on the board of directors of many civic and arts organizations including the Painted Bride Art Center and Scribe Video Center in Philadelphia and the DC Rape Crisis Center, and Day Eight Arts in Washington, DC. Currently, I live in Washington, DC with my husband, journalist, Joe Davidson.